I have a confession to make. I hate the word productivity.
It's not that I dislike the concept of getting stuff done, or doing so in a timely and efficient manner.
I'm just bad at it.  
Instead of asking questions like "how do I get more stuff done in the same 8-hour work day?", I prefer to seek out advice on more "practical" matters. Things like: "How do you host a webinar?" and "How do you get MailChimp and EventBrite to talk to each other?"
So why am I writing a post on productivity tools when I'm bad at being productive?
It's a fair question. A few months ago, I went on something of a tool-search mania.
In my quest to try a bunch of different free and low-cost tools, I found three that are just awesome.  Not only do I love these these tools in their own right, they also made my work life way easier and – dare I say it – productive.
So on the off-chance that you also hate productivity hype but love tools that make your life easier, I present my new favorite tools to rock your to-do list and actually get stuff done.
In my pre-Satori days, I wasted a lot of time emailing people to set up Skype chats or phone calls.  10 emails later, we would finally have hit upon a time to talk. And it wasn't just potential clients – I was emailing back and forth with colleagues and people from various online business training courses.
Then, I discovered Satori. Satori is an online scheduling software that allows you set set up a public calendar, determine when you're available to take various kinds of appointments, and then publish that calendar on the internet. And don't worry – your Satori calendar hooks up with your Gmail calendar, so you never double-book yourself. Is that cool or what?
It also does neat things like allows you to send pre-appointment surveys, include a pay now button for coaching sessions, or even include a standard coaching agreement.  The calendar also translates time zones if your appointee inputs their address!
Setting up my public booking calendar with Satori allowed me to automate all kinds of things.
For starters, I placed a "book your free 30-min consultation" button on each of my services pages. I also placed that same button in my "welcome to my email list" sequence.
But the best part about having a public booking calendar is that you can simply email the link to anyone who wants to set up a phone call or Skype chat. Not only is this way easier than trying to set a time over email, it also really impresses the appointment-seeker.  
You can also post the link on social media, which is super useful if you're offering to help someone out with a problem. All they have to do is book a time to talk with you about it!

One final note: Satori is not free, although they do offer a free 30-day trial version.  I will say that paying for my beginner account is the best $15 I spend each month.  
If your finances are tight, you might consider Timetrade.  Their yearly plans are less than $100 and they also have a free 30-day trial version.  Keep in mind that Timetrade doesn't have the option to take payments like Satori does.
Boomerang is a close second behind Satori in terms of productivity tools I will never give up.  Boomerang is an extension for Gmail that works in Firefox, Chrome, or Safari. (Sorry Explorers). It allows you to write emails now and send them later.
On the face of it, the ability to send emails in the future doesn't sound that earth-shattering. But let's say that you've agreed to follow up with a client on Friday, and today is Tuesday.  You can either write a calendar reminder to follow up, or write it on your to-do list for Friday.
With Boomerang, you can write the follow-up email now, and schedule it to be sent on Friday.  It takes 2 minutes to write the email, since you know exactly what it should say, and you don't have to worry about adding another item to your to-do list.
Likewise, if you're working late at night and don't want your clients to know you're working late at night, you can write emails now while you're working, and schedule them to be sent first thing the next morning.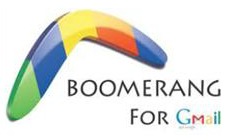 I've used this a few times, especially when I'm working on weekends (a time that's strictly non-business as far as my clients are concerned.)
Boomerang also has gives you the ability to be alerted if you send an email and don't get a response. You an also remove items from your inbox and return them later at your pre-determined time.
This is especially great for me, as I tend to use my inbox as a short-term to-do list. (And yes, I know it's a cardinal rule to never use your inbox as your to-do list. This is why I'm bad at productivity advice!)
Best of all, Boomerang is free to install and use. There is also a paid version, which as a few more wizzbangs (including the ability to pre-schedule recurring emails), but the basic version is still wicked awesome.
Accountability is huge in the world of entrepreneurship. It's something I struggled with a lot, especially when it came to implementing specific techniques or strategies that I learned in an online training course.
Mastermind groups are great for accountability, but they also require a lot of work. You have to find people you mesh well with, set up a time to talk each month, and dedicate yourself to really learning about someone else's business.
I wasn't ready to make that kind of commitment, but I was looking for a non-intrusive daily way to keep myself on track. That's where iDoneThis comes in. 
iDoneThis is an inexpensive tool that was designed to help teams keep track of what each individual member was working on that day.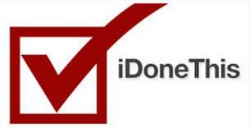 I set it up so that my "team" consists of 6 people who are all in the same business-building online course.
Each day, I get an email that asks what I've gotten done today in terms of coursework. And each day, I reply with a list of crossed off to-do items. The next day, I get a brief email with my & everyone else's accomplishments.  I can like or comment on other people's work, and they can do the same for me.
This, my friends, is the perfect "mastermind lite" system.
It's enough daily accountability to keep me focused on my goals, but it's not nearly as intrusive as a mastermind call or daily check-in. Plus, I like seeing what other people accomplish on a day-to-day basis. In fact, I like the simplicity of iDoneThis so much that I'm working on ways to incorporate the service into my coaching processes.  
If accountability is one of your hot spots, I recommend setting up a "team" in iDoneThis and giving it a try for 30 days.  If you love it as much as I do, the cost to continue with the service is a mere $5/person/month.  That's really nothing when you think about the value of holding yourself accountable to a team of people to report your successes. 🙂
Your Turn – What Productivity Tools Do You Use?
I hate to say it, but my work life has gotten immeasurably simpler since I discovered these productivity tools.  So now I want to know: what tools or systems do you swear by in your business?
What bright shining new tools will you recommend for me to go play with? Let me know in the comments below!
~ Felicity
photo credit: h.koppdelaney via photopin cc
FREE FACEBOOK TRAINING WORTH $149
Create your page, decide what & when to post, & attract your first fans.